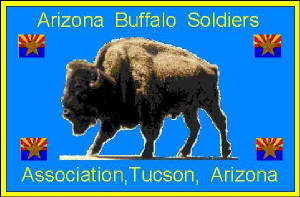 AZ BSA LOGO
This part of our site is still under construction. We will be updating it often.
To buffalosoldiersw.org our main web site
Welcome to our web site!


© This work is the property of the Arizona Buffalo Soldiers Association and or its owners unless otherwise stated. All images are the property of the Association unless otherwise stated. None of the images may be reused without prior written permission unless otherwise stated. This work may be used freely by individuals for research, teaching and personal use as long as this statement of availability is included in the text.

We are an organization that was established to study and honor those who served in the Ninth and Tenth Cavalry Regiments and the Twenty Fourth and Twenty Fifth Infantry Regiments between 1866 and 1940. . On this home page we'll introduce our organization and highlight important areas on our site.